M/s VAPTEC LLC is a company established with the head office in Dubai, by a group of specialist professionals with a decade of experience, then itself, in façade access equipment / BMU / Window cleaning cradle services. M/s VAPTEC LLC, as an ISO 9001 certified company for its Quality Management System, provide services like complete design with necessary structural calculations, study on existing schemes, advice on new products to suit building requirements, recommendations on possible safety upgradations of existing equipment,
Management of project, extensive technical support, procurement, Installation, testing and commissioning for all types of façade access equipments or window cleaning cradles.
Our dedicated window cleaning equipment maintenance management team can offer service packages to meet all customer needs. M/s VAPTEC LLC provides a full range of services from a new installation to reliable maintenance of façade access equipment systems and became a leading specialist service provider in UAE,
who is most popular among all major clients, building owners, real estate, facility management companies, just because of the excellent reliability, overwhelming customer satisfaction, genuine reputation, outstanding service efficiency and special eye-catching competitive pricing.M/s VAPTEC LLC with its exclusive brand Façade Hoists, UK, for the last 10 years, served several customers all over Middle East.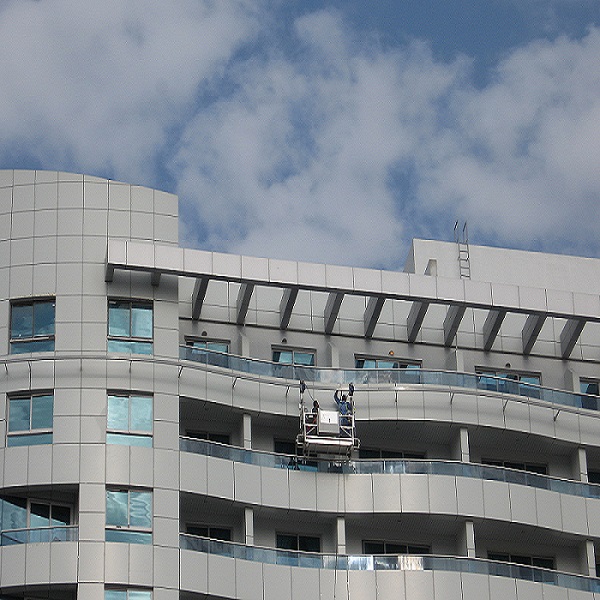 M/s VAPTEC LLC is the only exclusive leading specialist service provider in UAE, having in house NEBOSH, IOSH certified Safety Managers & Engineers with over two decades of extensive experiences in their respective fields, overlook the safety during our works for all Window cleaning cradle services. Our window cleaning cradle maintenance scheme of works cover wide range of services like Regular Maintenance works, Planned Preventative Maintenance works, Repairs works, Spare Parts supply and Installation works, Breakdown and Standby Services works, Full Comprehensive Service works, etc.
M/s VAPTEC LLC's inhouse safety managers ensure maximize the safety of each and every façade access equipment we undertake for any service scheme. Our experienced technical team ensures extended product life for all window cleaning equipment under our maintenance scheme. M/s VAPTEC LLC's experienced technicians ensure that each and every parts are well maintained and aligned during each service so as to reduce any future breakdown. Our inhouse safety managers provide extensive training to all BMU or cradle operators so that they are prepared to act safely and efficiently during any unpredicted emergency situations.
M/s VAPTEC LLC, as an ISO 9001 certified company for its Quality Management System, implement an exclusive maintenance log for each façade access equipment under periodic service scheme, hence as and when the usage of the BMU increases, our team correlates the duty cycle with the periodic preventive maintenance schedule, to ensure that the equipment is maintained well ahead in perfect working condition, thereby limits future repair costs. M/s VAPTEC LLC maintains records of the BMU or its parts conditions to constantly monitor the BMU operations and diagnose the current BMU status, which enables detection of early signs of ageing or fault detections and thus provide a sustainable maintenance environment.