When various architects and façade consultants get creative in any country that strives to lead the pursuit of urban modernization, developers are eager to utilize a blessed economy to materialize these designs, the results are attractive architectures of various shapes and sizes that serve every sector of this market. No matter what type of building you are involved in and if you have the need to safely reach, clean and maintain it, then be rest assured that VAPTEC LLC have a solution for you. To serve all simple or complex mid-size to high-rise tower buildings, we are able to make available an infinite types of roof trolleys, monorail, etc. – based safe and reliable Façade Access Systems.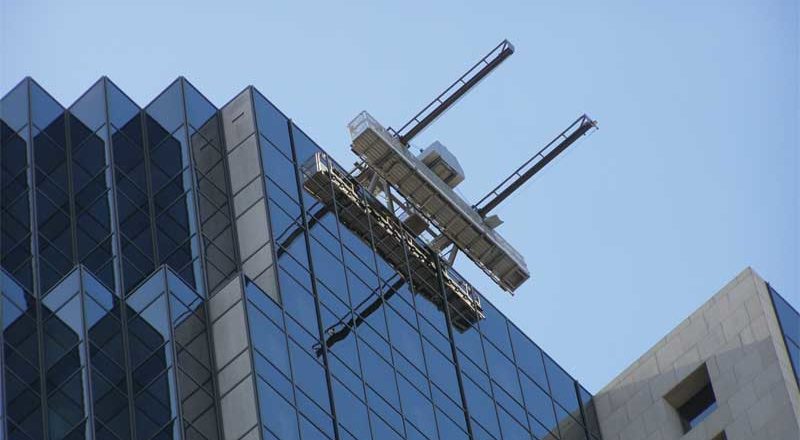 VAPTEC LLC is the exclusive authorized dealer of Facade Hoists International Ltd (FHIL), United Kingdom for Middle East areas including UAE, Saudi Arabia, Qatar & Oman.
VAPTEC LLC as an exclusive authorized dealer of Facade Hoists UK, supply the best and reliable Façade Access Building Maintenance Units within Middle East. Furthermore, we are committed to provide you with unparalleled product support, service and personnel training to ensure continuous, smooth and uninterrupted operation of your façade access equipment is obtained. With longevity in mind, our cleaning and maintenance solutions are thoroughly researched and custom tailored to best fit each building's specific needs. All products conform to the EN 1808 European standard.
Our range of façade access equipment includes:
Window Cleaning Cradles Services
Manual and Powered Trolley Units
Semi and Fully Powered BMU's
Telescopic BMU's
Monorail Systems
High & Low profile Davits
Façade Access Ladders
Façade Access Gantries
Mobile & Aerial Access Platforms
Restraint and Fall Arrest Safety Lines
Façade Access Scaffolding Systems
System Guide lines for Rope Access Cleaning
We provide full equipment design, necessary loadings & calculations using information on new/existing facade access schemes and equipments to suit various building requirements, along with manufacturing, installation, testing & commissioning. VAPTEC LLC's main subsistence lies in the reliable & extensive after sales support or maintenance service provided for various existing façade access equipments of all international and local brands, by virtue of which we are today the market leaders in UAE.