EOT Crane Division
VAPTEC LLC provide complete design, necessary loadings & calculations using information on new/existing EOT Crane equipments to suit various lifting requirements, along with manufacturing, installation, testing & commissioning all as per various respective international standards: EN/FEM/ISO/DIN/BS .
VAPTEC LLC's, as an ISO 9001:2015 certified company, main strength lies in the reliable & extensive maintenance service or after sales support provided for various existing EOT Cranes of all international and local brands, by result of which we are today one of the market leaders in UAE.
EOT crane or electric overhead travelling crane which is also known as bridge crane, is a lifting equipment which is installed across the factory, industry, workshop, warehouse or yard, etc. for material lifting by wire rope or chain hoists. The two ends of crane usually sit on tall concrete pillars, concrete tracks, steel column supports or steel beam tracks. The crane runs perpendicularly along the two sides of the track, and the hoist or cart unit will be running horizontally along the bridge. They form a rectangular range for work area which can make full use of the space under the bridge to lift and transport materials without being impeded by other architectural / structural features or equipments below. So it is one of the most widely applicable type of industrial lifting equipment.
Our Range of Products include:
Double or Single Girder Gantry Crane,
Rubber Tyre Gantry Cranes
Double or Single Girder EOT Cranes
Double or Single Girder Underslung Cranes
Manual Portal Cranes
Various types of Jib Cranes
Chain Hoists
Light Weight Profile Cranes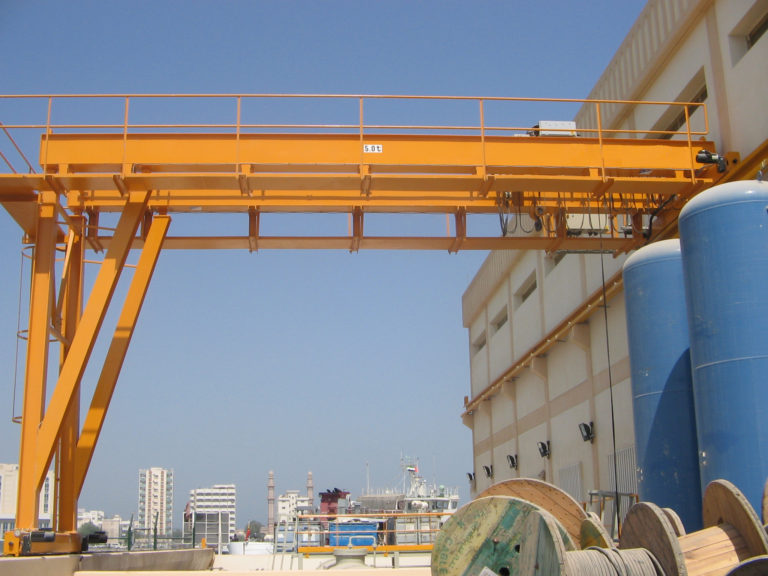 VAPTEC LLC, with extraordinary dedicated technical team experienced for last two decades in UAE, also supply and maintain special EOT Cranes applicable for special hazardous atmosphere like Explosion proof cranes.
VIEW OR DOWNLOAD PDF VAPTEC BROCHURE LINK